Porcelain Veneers in Las Vegas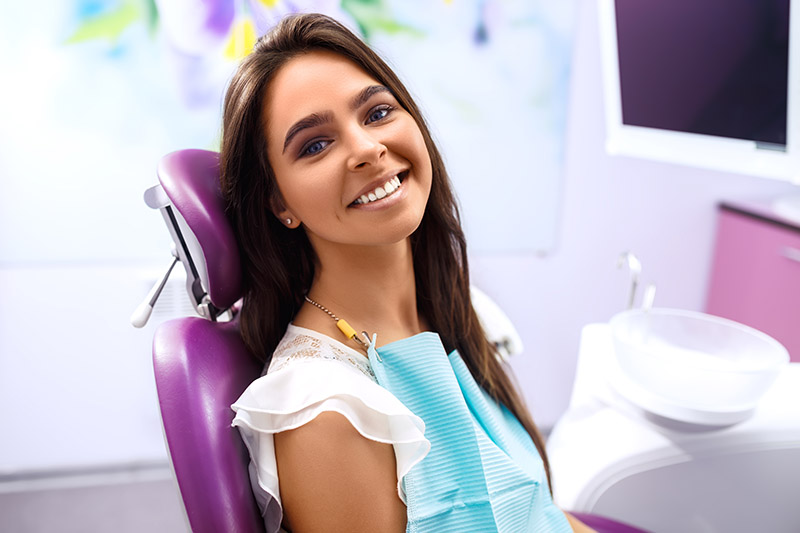 Restore Your Shiny, White Teeth With Veneers
In simple terms, porcelain veneers (or also called dental veneers) are thin shells of porcelain that is used to obtain the perfect shape or to restore the white color of the teeth. It is a dental operation that should be done only by trusted professionals. It can be used to correct both color and shape problems and make for a great smile makeover.
Porcelain veneers can improve your smile and boost your confidence significantly. Your smile reveals a lot about you, so why not have a set of shiny white teeth that will make you look good every day? Veneers can cover up stains, worn teeth, gaps in between teeth, and other problems that are hard to solve by other means. You can practically transform your smile with porcelain veneers.
Smile Designers dentists are experts in porcelain veneers in West Flamingo, Las Vegas. You may contact us today to learn more about our services or to schedule an appointment.
Overview of Tooth Veneers
Often an alternative to crowns, veneers are very thin pieces of specially-shaped porcelain or plastic that are glued over the front of your teeth with little or no anesthesia needed. They are the cure for teeth that are severely discolored, chipped, have small holes or pits, misshapen or crooked, or for the correction of unwanted or uneven spaces. Unlike crowns, veneers won't require the dentist to remove much of the tooth itself in most cases. It is important to ask your cosmetic dentist how much tooth will be removed. In some cases more tooth will need to be removed, which may increase the risk of trauma to the tooth. Veneers are created from an impression taken in your cosmetic dentist's office. Your custom veneer is then glued directly onto your tooth. Typically costing less than crowns, veneers won't stain, making veneers a very popular solution for many people seeking that perfect smile. Strong and very durable, veneers last from ten to fifteen years, and come in colors that will brighten dark teeth without the worry of them changing color.
How are Tooth Veneers Attached to your Tooth?
In your first appointment, it is important to initially discuss with your cosmetic dentist that you will want to "try in" your veneers with temporary cement that is the same color cement as will be used for the permanent attachment. During this "try-in" phase, be sure to look at your veneers in natural light in addition to the office light. Teeth are prepared for veneers by lightly buffing to allow for the small added thickness of the veneer. Veneers are thin like contact lenses, and will usually only need tooth reduction of 0.5mm to 1.0mm. If a drastic change is being made for the result you want, reduction may be 1.0mm to 2.0mm. A mold is taken of the teeth, from which the veneers are modeled after. Temporary veneers will be placed and worn until your permanent veneers are ready. While wearing the temporary veneers, advise your cosmetic dentist of any adjustments or changes you would like made, such as in shape or size. These changes will be translated into your permanent veneers, so good communication between you and your dentist is important in achieving your new smile.
Your dentist places the veneers with water or glycerin on the teeth to verify their perfect fit and the shade or color. The color cannot be changed after the veneers are adhered to your teeth. The tooth is then cleansed with chemicals to achieve a durable bond. Once the glue is between the veneer and your tooth, a light beam is used to harden the glue/cement.
What Are Benefits of Dental Veneers?
If you're tired of hiding your smile behind the hand over your mouth or wanting to smile but not showing it because your teeth aren't straight, porcelain veneers may be the solution for you. Porcelain veneers are thin shells made out of a tooth-colored ceramic material that are bonded to the front of teeth to make them look better. Porcelain veneers allow you to achieve a beautiful new smile that can last longer than traditional dental veneers and can add years back onto your appearance.
Porcelain veneers in Las Vegas are just one of the options you can take to improve your smile. Here are the reasons why it might be the best for you:
It Provides Natural-Looking Solutions
With porcelain veneers, your dental problems will be fixed without making too much difference. Porcelain veneers are restorative dental appliances that are used to cover the front surface of teeth. Porcelain veneers can correct imperfections with your smile. They provide natural-looking solutions for straightening and improving the color, shape, or length of teeth.
It Provide Long-Lasting Results
If taken care properly, dental veneers can last for 10 years or more.

Porcelain veneers are one of the most popular dental procedures today. They provide an affordable alternative to crowns or traditional porcelain fused to metal (PFM) and can give you a new smile that is more beautiful than ever! Porcelains veneers correct unsightly gaps, chips, stains, discoloration or misalignment of teeth that stand in your way of a beautiful smile.

The benefits of porcelain veneers are remarkable! Within 7-10 days you can enjoy a new set of perfectly matched teeth.
It Doesn't Need Special Care
After getting porcelain veneers, you simply have to do proper dental hygiene like brushing and flossing to avoid buildup of plaque.

The first advantage of porcelain veneers is that they need very little care. They are so durable that you can eat pretty much whatever you want and don't have to worry about breaking them. Porcelain won't chip like your teeth would, and you won't have to bring any special dentures, or floss with any special device. They just need a daily clean, as you would with your natural teeth.
Does Porcelain Veneers Hurt?
A lot of people are often afraid of getting dental veneers because they think it hurts too much. In fact, this simply is not the case. Pain is an aspect that most patients don't even think about when it comes to porcelain veneers since most cases can be done without any anesthesia.

However, there are some cases where certain kinds of veneers might necessitate the use of anesthesia. When you are discussing your options with your dentist, he or she would be able to advise you on what you should do in addition to discussing other factors pertinent to your surgery.

Bonding of porcelain veneers doesn't hurt; however, you might experience sensitivity in the next few days after the operation. There are medications that you can buy over the counter if you can't handle the discomfort.
Rates of Porcelain Veneers in Las Vegas
The rates of porcelain veneers depend on your location and the operation needed to be done. For accurate pricing details, call us at 702-364-2373 for details.
References:
https://www.webmd.com/oral-health/guide/veneers#1
https://www.wemakespokanevalleysmile.com/
https://www.cosmopolitan.com/style-beauty/beauty/a13051650/what-are-veneers/
https://www.sarahpalmerdds.com/5-benefits-of-porcelain-veneers.php
https://studiobsmiles.com/blog/veneers-phoenix/